The Toddler program encourages the natural curiosity that is evident at this age and fosters confidence. This combination develops a sense of security and independence.
In this small group setting, toddlers have numerous opportunities to interact with other children. In a nurturing environment, your youngster is supported and supervised through the important aspects of a Toddler's development and learning. These skills are designed for success.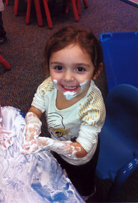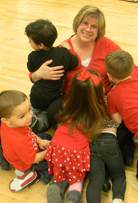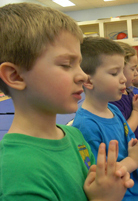 Toddler Development Program ….
Our Toddler Development Program…
Focuses on social/emotional development through learning a positive sense of self and others, Continues the development of motor skills including large and small muscles, Furthers the development of language and listening skills, Develops knowledge about the world around them through participation in age appropriate routines, Builds on potty training and personal care skills.
Parent Note…
Toddlers are encouraged to begin associating words with objects, and develop a new vocabulary.